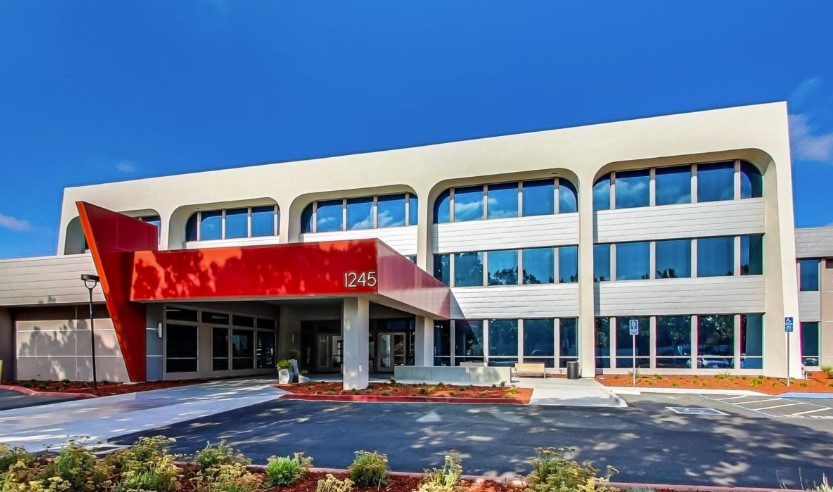 The world has changed a lot since 1974 when the three-story Golden Pacific Office Center opened its doors along Winchester Boulevard in West San Jose. Often referred to as the Comerica Bank building, the structure at 1245 So. Winchester Blvd. — complemented by a smaller companion next door — has languished over the decades.
Today, a 21st century transformation is taking place — with the interior upgrades virtually complete and the exterior renovations now underway — which will make the newly renamed Solar Row at Winchester office complex one of the most innovative in the area. Development manager, Borelli Investment Company, is creating a modern, aesthetically pleasing, highly energy-efficient place to do business for companies of all sizes — with office suites from 350 sq. ft. to 20,000 sq. ft.
Unprecedented Green Renovation
"It's virtually unheard of to undertake a green building renovation in a structure of this age," said Buddy Parsons, president of Borelli Investment Company. "Our solar solutions provider, SilRay, is leading the way in doing a major retrofit without tearing everything down and starting from scratch."
Working closely with asset manager, Archers Capital, and general contractor, SiliconX Construction, Borelli is creating a solar-powered green building that will have a rooftop solar system supplying approximately one-third of the building's energy needs, along with energy-efficient LED lighting and many other energy-conscious green features.
Complete Interior Refurbish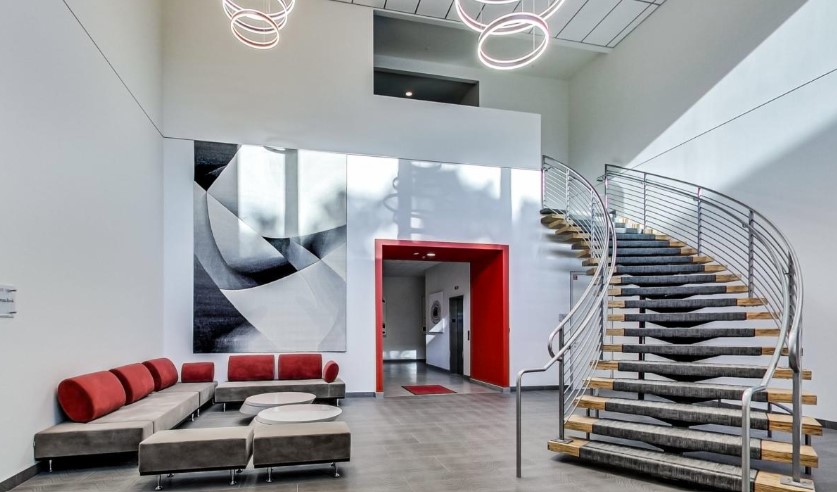 Work on the Solar Row at Winchester complex began with a complete interior renovation. All common areas have received much-needed upgrades:
• Gracious lobbies — High vaulted ceilings, chandeliers and new LED lighting, collaborative seating for spontaneous get-togethers, Wi-Fi access, and electronic storefront entries as part of a sophisticated new security system
• Inviting hallways — Vibrant LED lighting with motion sensors and dimming controls, new ceiling tiles and paint, quality carpeting, plus new 8-foot doors, frames and hardware for each of the offices
• Comfortable restrooms — Complete renovation and reconfiguration — with new wainscoting, partitions, LED lighting, Corian counter tops, sparkling ceramic tile floors, the latest hand dryers, and access locks
• Convenient conference room — Available to be reserved for meetings with up to ten people; outfitted with serving cabinetry, table and chairs, white board, new fixtures, and upgraded carpeting
• Mail room for building tenants — Mail lockers, with incoming and outgoing mail
• Signage — Full tenant signage, including an electronic directory in the lobby
• Other amenities — There will also be new elevator finishes and Wi-Fi in all common areas
Distinctive Exterior Facelift
Plans call for Solar Row at Winchester to feature a dramatic new exterior as well, designed by San Jose-based Edwin Bruce Associates, architects AIA. This will include a smooth stucco finish with new trim, metal paneling, solar film windows, and the previously noted rooftop solar installation. At each entry, there will be covered seating, ideal for collaboration while taking advantage of the South Bay's hospitable weather virtually year-round.
Solar solutions provider and building tenant, SilRay, which is providing the technical know-how for the leading-edge solar infrastructure on-site, will also be creating a unique solar art exhibit. Consisting of two stunning, 27-foot-wide "solar trees" with branch panels that generate additional energy for building usage, the trees will be located in front of the main building.
In addition, there will be new monument signage for tenants, a redesigned entry from Winchester Boulevard, drought-tolerant landscaping, and a host of EV plug-in stations All exterior work is expected to be completed in the coming weeks or months.
Complementing the City of San Jose's Plans
The renovation by the new ownership group, directed by Borelli and Archers Capital, is a perfect complement for the City of San Jose's ambitious plans to encourage redevelopment along the Winchester Boulevard corridor from Santana Row to Campbell.
"Solar Row at Winchester serves a major need for modern, Class B office space in fast-growing West San Jose," Parsons remarked. "The transformed office complex is virtually at the midpoint between tech-savvy Santana Row — with its many restaurants, entertainment offerings and retail services — and the quaint offerings of downtown Campbell. With a generous 8/1,000 parking ratio and all of the upgrades and energy-efficient features, this should be very attractive to a variety of businesses."
For more information about the Solar Row at Winchester office complex, contact Borelli Investment Company at (408) 453-4700.
About Archers Capital
Archers Capital is a San Jose, California-based real estate investment firm that invests, develops and manages both commercial and residential properties. Focused on the greater San Jose Bay Area, Archers manages investments and creates value in renovating and repositioning existing buildings and ground-up development. For more information, please call Michael Cheng at (650) 275-2594, or email michael@archerscapital.com. Or visit www.archerscapital.com.
About Borelli Investment Company
Borelli Investment Company is a San Jose, California-based real estate services firm that has provided property management, leasing and development services to the Silicon Valley and beyond for more than 60 years. Every member at Borelli brings a professional approach to help owners and investors achieve their goals. For more information, please contact Buddy Parsons at (408) 453-4700, Ext. 116, or email buddy@borelli.com. Or visit www.borelli.com.
About SiliconX Construction
SiliconX Construction is a full-service general contractor that provides a wide array of value-focused construction services to clients throughout Northern California. Specialties include ground-up construction, major renovations, tenant improvements, and facilities maintenance. For more information, call Tony Gonzales at (408) 418-0099, or e-mail tony@siliconxconstruction.com. Or visit siliconxconstruction.com.