For the past decade, Club Sportiva has pioneered a unique sports car "timeshare" concept — offering exotic car aficionados and classic car buffs the ultimate exotic and sports car driving experience. The company has attracted hundreds of members, as well as corporate and individual clients, who have taken advantage of a variety of services such as Exotic Car Share, rentals and tours in addition to membership and concierge services.
As Club Sportiva has grown, it has opened additional locations beyond its original San Francisco facility — including showrooms in Menlo Park and Marina del Rey, and a new showroom and headquarters in Silicon Valley within Club Auto Sport in San Jose.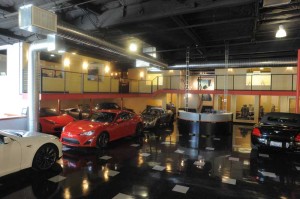 In late 2012, to keep pace with its increased growth and popularity with members and clients, Club Sportiva decided to upgrade its facilities at Club Auto Sport — opening a stunning clubhouse, expanding its showroom and completing new administrative offices. To handle the challenging project, it selected SiliconX Construction.
Keeping the Business Rolling
Work on the improvements for the new space began a week before Christmas in 2012 to get the project off to a fast start and meet Club Sportiva's aggressive schedule to be open by spring. The business continued to operate in its existing showroom at Club Auto Sport while the work progressed.
Adding to the challenge, once Club Sportiva signed the lease for its new space, Club Auto Sport put its old space on the market — and the premium location was snapped up halfway through the construction process.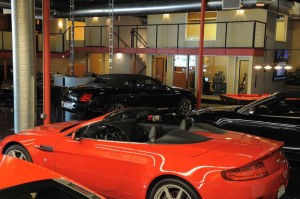 "This reduced the already tight time schedule by two weeks to accommodate the new tenant's move-in," said Anthony "Tony" Gonzalez, Director of Construction Operations and a superintendent with SiliconX Construction. "We were able to meet the deadline and get Club Sportiva into its new space before the other tenant needed to occupy its previous space."
One-of-a-Kind Clubhouse for Members
SiliconX created a luxurious 5,400 sq. ft. clubhouse for Club Sportiva members that includes a significantly expanded showroom filled with extraordinary exotic and sports cars, a large built-in entertainment system, a billiards table, and a members' and clients' conference room.
Above the showroom floor, SiliconX completed a 1,600 sq. ft. mezzanine that features an exclusive cigar lounge and bar, plus administrative offices for Club Sportiva employees. Around the perimeter of the mezzanine is a walkway that allows members and clients to gaze down upon the millions of dollars worth of spectacular vehicles from Ferraris to McLaren MP4s. All areas of the new space were fitted with the finest appointments.
On-Time Finish
The new clubhouse was finished on-time and on budget and ready for Club Sportiva to begin rolling in the high-end cars in by April 1st.
For more information about the Club Sportiva improvements or to obtain a quote on your next project, contact Tony at tony@siliconxconstruction.com, or call (408) 418-0099 (w) or (408) 318-1869 (c).