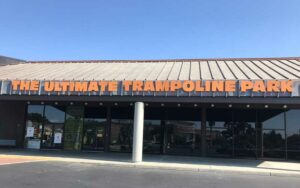 Founded in 2010 in Pleasanton, Rockin' Jump pioneered a unique concept in active entertainment parks. While a central trampoline jump arena is at the core of the indoor park's family fun offerings, kids also love Rockin' Jump's climbing walls and towers, a trampoline-powered slam dunk zone, dodgeball arena, obstacle course, a jousting beam, a stunt bag pit, aerial acrobatics area performed on hanging silks, and much more.
All Rockin' Jump parks emphasize health and safety, and feature comfortable seating areas for parents where they can keep an eye on their kids on large-screen video monitors.
Rockin' Jump originally opened its Fremont location in 2014. Recently, the building's property manager reached out to SiliconX Construction to give the 7,500 sq. ft. facility on Farwell Drive in Fremont a much-needed facelift.
Comprehensive Exterior Upgrades
Work began with the demolition of the existing façade. During this phase, significant dry rot was uncovered that needed to be removed. SiliconX worked with a structural engineer to shore up the building's façade and exterior pedestrian walkway overhangs using temporary wood supports, so the demolition work could be safely completed.
Once the demolition was finished, SiliconX installed new columns that became integral to the building's structural integrity. The updated façade was then put into place, along with a new roof cap. And the building was painted to create an attractive fresh look.
Project challenges included longer lead times for city inspections and approvals due to the COVID pandemic, as well as higher materials costs caused by supply chain issues. Even in the face of these challenges, the innovative approach SiliconX took saw all improvements completed within approximately six weeks.
If you'd like to learn more about how SiliconX can give your building an exterior facelift or freshen your interiors, please contact Tony via email, or call (408) 418-0099 (w) or (408) 318-1869 (c).