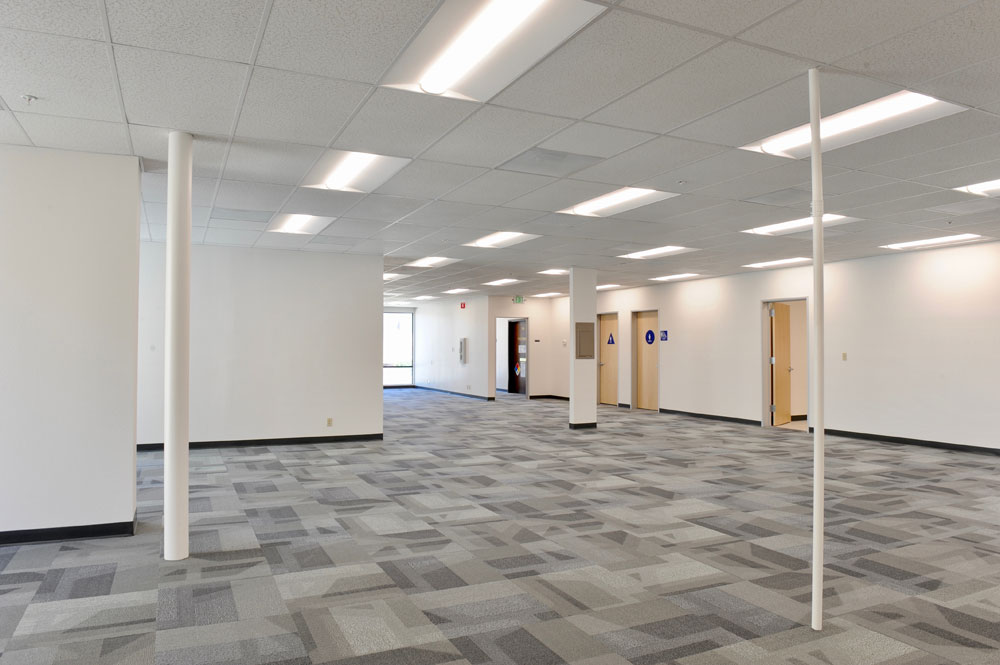 Highlights
• Renovated 8,600 sq. ft. of interior offices, plus ground-floor parking in a 3-story building in the downtown San Jose corridor
• Resolved numerous unexpected issues in the 35-year-old building and had to deal with scheduling delays caused by the COVID-19 outbreak
• Installed new wiring, LED lighting, an HVAC system, and flooring — and built restrooms, break rooms, and 10 private offices around large open-office areas
• Created an inviting entry for tenants — with a raised ceiling, large glass storefront doors and tile floors
Originally built in the mid-1980s, the three-story office building at 425 East Santa Clara Street in downtown San Jose clearly needed an upgrade. The exterior facade, with its generous glass and distinctive awnings, could eventually use a refresh. But the 8,600 square feet of interior office space was all potential — definitely in need of a complete renovation.
When the new owners, Bill and Stephanie Noryko, purchased the building, they turned to SiliconX Construction to complete a comprehensive upgrade that would reflect the sweeping revitalization that's continuing in the downtown San Jose corridor.
Challenge
At the site, the SiliconX crews found a building that was outdated and had a number of preexisting conditions needing to be remedied. This required a considerable amount of demolition to identify the issues and ensure that they were adequately addressed.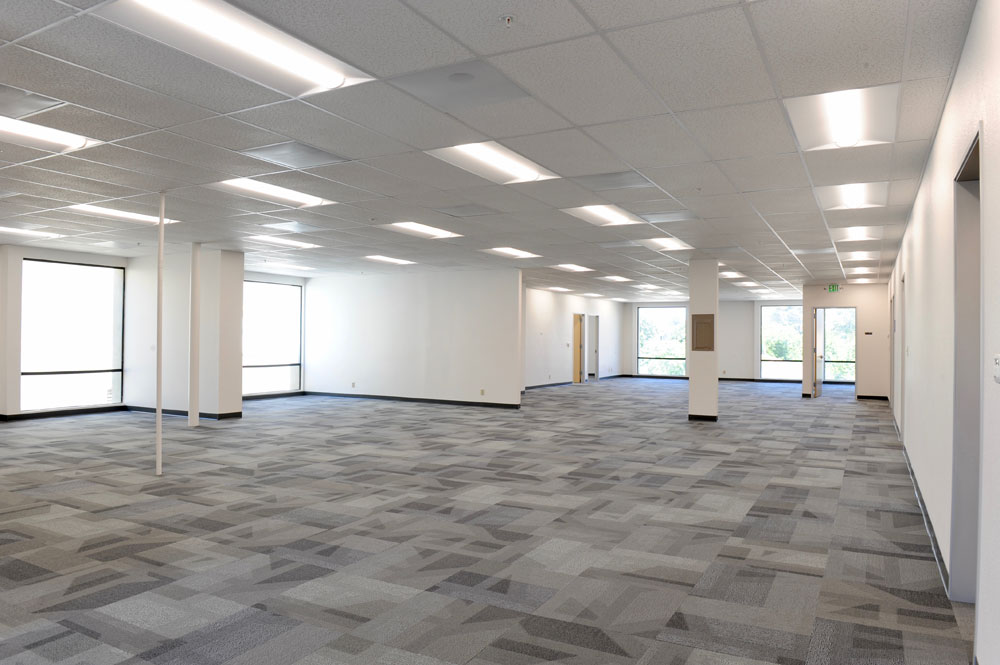 An additional challenge was that while the interior improvement work began in late 2019, it continued into 2020, where the timing of completion was severely impacted by COVID-19.
The combination of unexpected building issues and disruptions due to the changed environment meant that SiliconX had to work very closely with the building's architect and the City of San Jose to meet adapt and obtain approvals.
Solution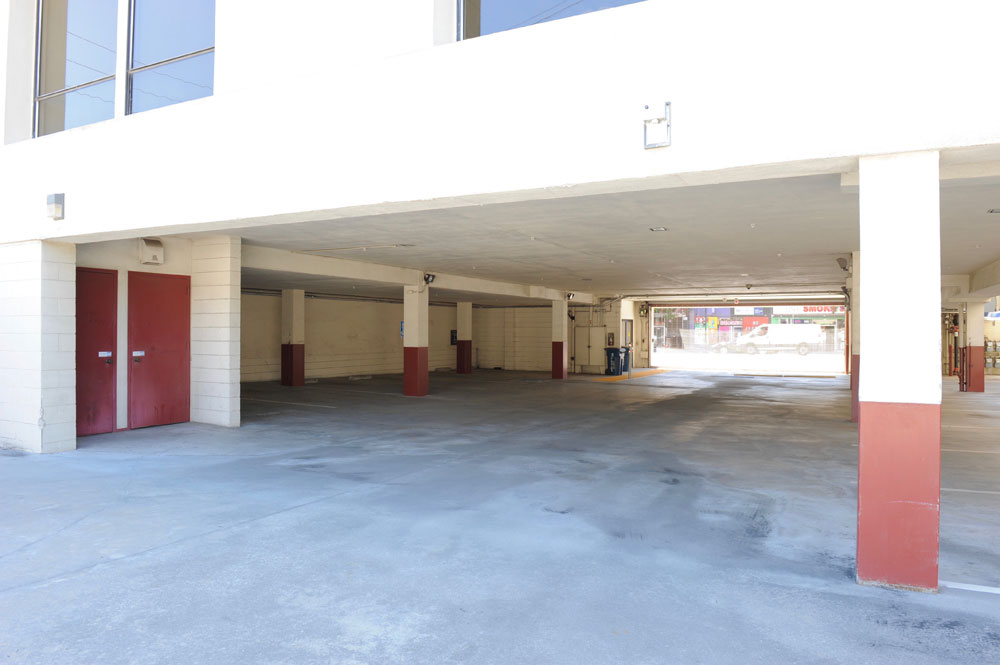 425 East Santa Clara Street is unique in that it provides on-site, gated and covered parking for around 20 tenants on the ground floor — with approximately 4,250 sq. ft. of office space on each of the two floors above.
Most of the office space is designed to be used in an open-office plan — with five private offices around the exterior on each floor.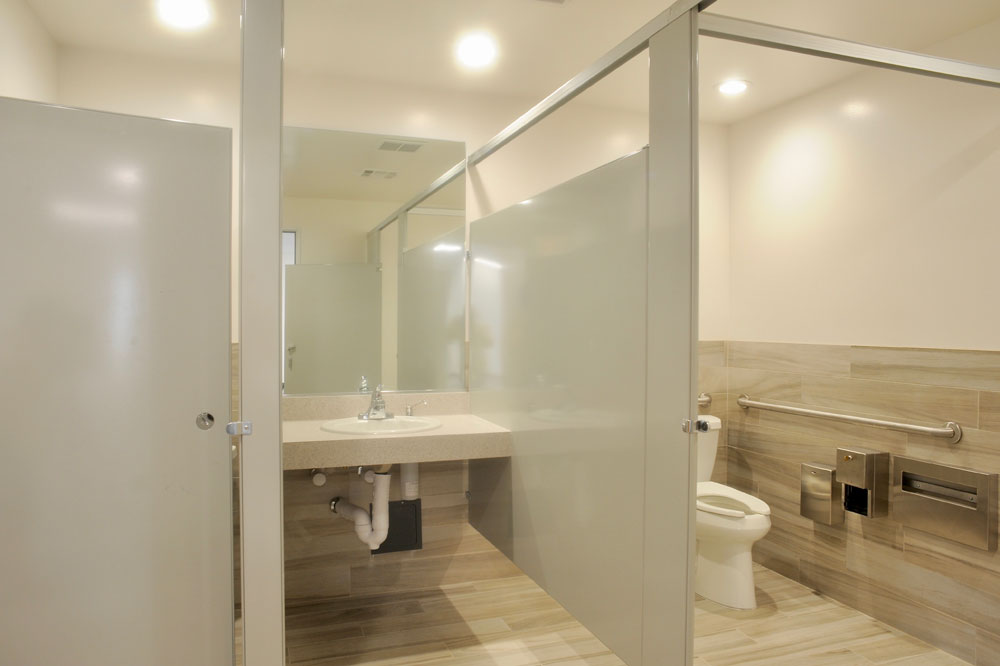 Construction steps included: extensive demolition, installing all new wiring and LED lighting, a new HVAC system utilizing existing ducting, upgrades of the second-floor restroom core and second- and third-floor break rooms, and more.
SiliconX also put up extensive framing and drywall for the private offices around the outer edges of the floors, and laid upgraded flooring throughout.
In addition, SiliconX teamed with the architects to create a cozy entry — with raised ceilings fitted with LED light fixtures, large glass storefront doors and tile flooring. And in the garage, parking stalls were restriped and an ADA-accessible stall was created for disabled parking, with wheelchair loading and unloading.
Results
Today, 425 East Santa Clara Street offers one or multiple tenants upgraded, modern office space in a comfortable, elevator-served, low-rise building with access to downtown San Jose's many transportation options and growing list of amenities — without the soaring costs of the downtown highrises.