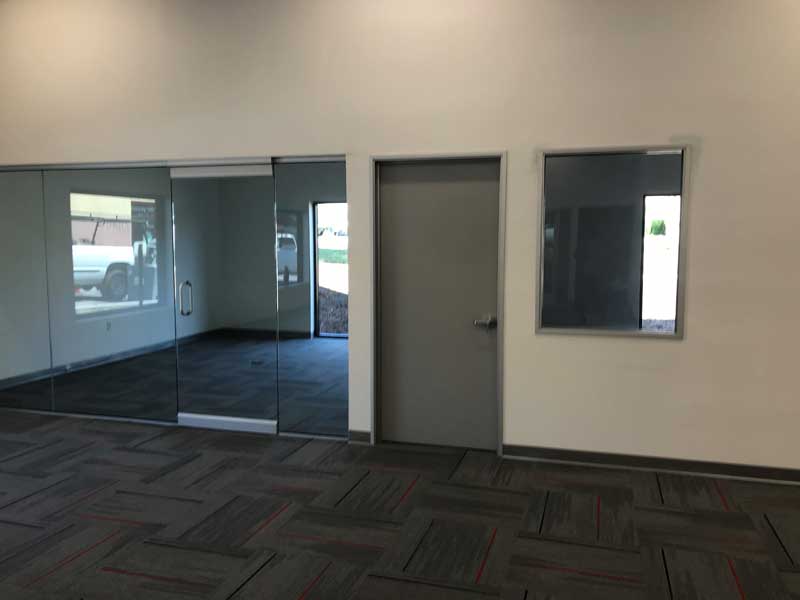 With companies welcoming employees back into the office, many aging environments need upgrades to be ready.
SiliconX Construction teamed up with architect, Jimmy Chang at RADD Architects to make significant improvements to 3,600 sq. ft. of space at 46177 Warm Springs Blvd. in Fremont.
COVID Challenges and Last-Minute City Requirements
Built in 1983, the concrete tilt-up building provided a space that needed considerable freshening up. SiliconX was asked to undertake comprehensive tenant improvements (TIs), while managing deadlines that continued to be impacted by COVID restrictions. The project involved an especially lengthy permitting process, as well as some unusual last-minute requirements from the City of Fremont that extended the completion timeframe.
Improvements included saw-cutting exterior openings on this concrete tilt up building for a new entry and a number of windows to bring light into the space – resulting in a much more inviting environment. Ample amounts of glass were also added to the new interiors, both in the redesigned entry lobby and in meeting areas to encourage more productive collaboration. Electrical work involved installation of a range of floor outlets to serve the tenant's needs.
ADA Improvements
In addition, SiliconX is handling exterior work required to create an accessible entrance that will fully meet the requirements of the Americans with Disabilities Act (ADA). Last but not least, the exterior will be painted to present an attractive new face to customers and employees when they arrive.
The entire TI project was completed on budget and in a timely manner, allowing for the additional requirements from the city and dealing with some change requests by the tenant on both the interior and exterior work.
If you'd like to learn more about the capabilities SiliconX offers when completing TIs, please contact Tony via email or call (408) 418-0099 (w) or (408) 318-1869 (c).