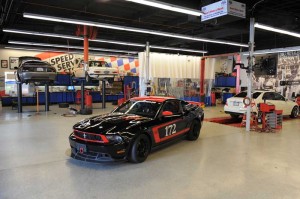 Borelli Motor Sports is a unique automotive shop that provides trusted and expert maintenance and performance modifications handled by expert technicians who are available to meet directly with customers to understand their driving requirements and provide precisely what their vehicles need. Borelli Motor Sports has also become a preferred destination for race car rentals, race prep and trackside support — as well as for showcase-class storage of expensive vehicles.
In 2013, the shop celebrated its 5th anniversary by acquiring the automotive services business of TPS Motorsports — with a plan to bring the two shops' operations together at Borelli Motor Sports' location in Club Auto Sport in North San Jose.
Expanding the Shop Area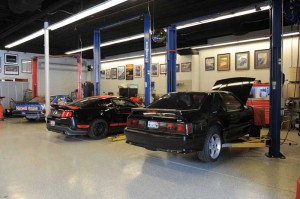 SiliconX Construction was brought in to significantly expand the shop service area and build out 4,500 sq. ft. of new space that Borelli Motor Sports acquired in the Club Auto Sport – Phase II building, adjacent to the original complex. The work included:
•     Moving five large storage racks from the business's existing 8,000 sq. ft. of space to the new space across the parking lot
•     Creating three new service bays in the current shop space to accommodate the TPS Motorsports technicians who came on board as part of the merger
•     Building out the rest of the new shell with additional storage racks and a custom dynamometer for tuning Ford, GM, Chrysler/Dodge, and Nissan/Infiniti vehicles.
Getting on the Fast Track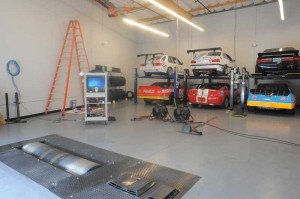 To meet Borelli Motor Sports' requirements, the construction work had to be completed within a very short timeframe.
In the new space in Club Auto Sport – Phase II, SiliconX installed demising walls, interior partition walls and a large roll-up door. The dynamometer was relocated from TPS Motorsports in Campbell and installed, together with a special dual-pane glass-enclosed viewing area for customers, near the operator control unit.
In the original shop space, SiliconX removed five four-post storage racks and replaced them with three, two-post vehicle lifts within the new service bays. Each post required a 2'x4' concrete footing. Once the concrete had been poured, SiliconX had to coordinate inspections by a company licensed to certify that the concrete had cured long enough to install the new lifts.
When that was complete, the floor finish was epoxied and air outlets were installed for the safety of the shop's technicians. The floor in the new space was also painted.
Taking the Checkered Flag
Everything had to be completed in eight weeks. Between city inspections, waiting for concrete curing times, and coordinating with the various subcontractors — all while the existing Borelli Motor Sports shop remained open — there was little room for error.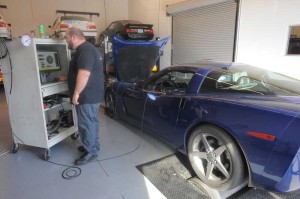 "SiliconX did a fantastic job of meeting our deadlines — finishing one day ahead of schedule," said Ralph Borelli, president of Borelli Motor Sports. "We are pleased to be able to offer customers of Borelli Motor Sports and TPS Motorsports an expanded, state-of-the-art facility. The larger, upgraded shop area benefits our customers and employees alike. And with everything from tires, wheels and alignment to drivetrain, engine, and dyno tuning services now under one roof, we think that Borelli Motor Sports compares favorably with any other automotive shop in the state.
"We are very satisfied with the quality, timing and cost-effectiveness of the work SiliconX Construction did for us," he added.
To learn more about the Borelli Motor Sports move and new space build-out or to obtain a quote on your next project, contact Tony at tony@siliconxconstruction.com, or call (408) 418-0099 (w) or (408) 318-1869 (c).