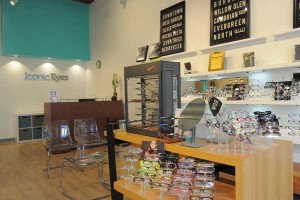 When Dr. Christine Ngo, OD, decided to start her own optometry practice, her goal was to provide honest, friendly, individualized vision care to patients in the South Bay. With a bachelor's degree in biological sciences from UC Davis and a doctorate from the UC Berkeley School of Optometry, Dr. Ngo is highly trained and experienced in providing a variety of services including: comprehensive eye exams, glasses and contact lens prescriptions and fittings, treatment for a range of ocular diseases and conditions, co-management care for refractive and ophthalmic surgery, and patient education.
Dr. Ngo wanted her office environment to clearly reflect the level of sophistication and personalized care she and her staff provide to each patient. To accomplish this, they turned to SiliconX Construction, a San Jose-based general contractor with a proven track record of creating exceptional office spaces for its clients.
Making the Client Comfortable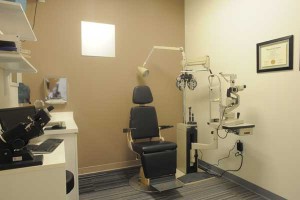 The space Iconic Eyes chose was an unimproved 1,200 sq. ft. unit in a recently completed office building, located at 1055 East Brokaw Road #50 in a center on the corner of the intersection with Old Oakland Road in San Jose. Dr. Ngo was starting her own practice for the first time and had little to no experience managing tenant improvements, so the first goal of SiliconX was to ensure that she was completely comfortable with the process and received all the communication she needed to feel in control every step of the way.
In addition, because every day her practice wasn't open was a day of lost patient care and billings, time was of the essence. SiliconX developed an ambitious schedule to get its work done and the office opened in eight weeks.
Productive, Efficient Space for Patients and Staff
Although Iconic Eyes is presently a solo practice supported by two staff members — an optical manager and an optometric assistant — Dr. Ngo hopes to have another optometrist join her practice and has space for several additional staff members once she becomes more established.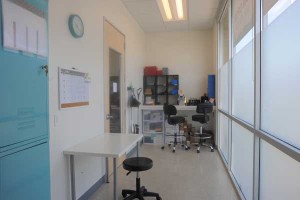 The office includes two exam rooms, a consulting/fitting room, showroom, reception area, lab and break room — plus a restroom. SiliconX installed demising walls, interior partition walls, an acoustic ceiling, a heating/ventilation/air conditioning (HVAC) system, flexible ducting for the acoustic ceiling system, and rigid spiral ducting in an open ceiling area — in addition to carpet tile, luxury vinyl tale, new doors, and hardware.
Because Iconic Eyes is the first tenant to occupy the space, SiliconX also needed to create connections into the water, sewer and gas mains for the new bathroom and three separate hand sinks in the exam and break rooms. And a transformer was required to bring power from the building's main electrical system into the office.
One of the most notable features of the interior construction is the office's attractive design and lighting. Working closely with the architect and Dr. Ngo, SiliconX installed recessed LED light fixtures, parabolic fixtures and track lighting to compliment the natural light available in the space. Fluorescent wall washer scones highlight the inviting clean, bright teal and white colors that Dr. Ngo chose for her practice.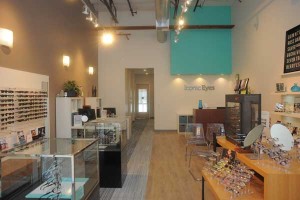 "We encountered several existing conditions in the space that presented potential design road blocks that could have impacted our schedule," said Anthony "Tony" Gonzalez, Director of Construction Operations and a superintendent with SiliconX Construction. "Through close communication with Dr. Ngo, the property manager, PG&E, and other utilities — as well as the contractor who was completing the rest of the building's shell — we were able to meet Dr. Ngo's expectations and finish the project right on schedule and on budget, so she could open her practice to patients."
"I always felt SiliconX had my best interests in mind," commented Dr. Ngo. "They were constantly ahead of schedule and worked hard to stay within my budget. Our meetings were well organized, and whenever I needed changes, SiliconX was easy to communicate with and efficient at getting the job done. Their work came out clean, professional and beautiful."
For more information about Dr. Ngo's practice or to make an appointment for an eye exam, contact her office at (408) 573-7388.
For additional details about the tenant improvements for Iconic Eyes or to obtain a quote for your next project, contact Tony at tony@siliconxconstruction.com, or call (408) 418-0099 (w) or (408) 318-1869 (c).