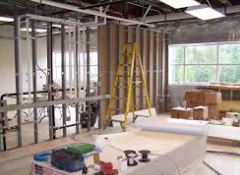 If you have thought about that new office renovation for quite some time, then it might actually be time to start getting the new project underway. Renovations just happen to be exactly what Silicon X Construction specializes in, and we can get you pointed in the right direction in terms of where to start. We are skilled in taking existing buildings or spaces and creating something that looks brand new.
There are obviously differences between new additions, tenant improvements, and renovations. Renovations are designed to use the existing space you are currently in and making it better through a series of upgrades. This can include new flooring, new lighting, and anything you can imagine to make the space better. Silicon X is there to get the ball rolling and offer the expertise you have come to expect from a world class construction company.
What happens in a typical renovation?
Choosing the Contractor– This is the first step in getting the ball rolling on your new renovation project—after you make the decision to get started of course. Choosing the right contractor for the job requires many different elements, most notably reputation, price, and timeline.
Getting an Estimate– After you have chosen your contractor, the next step will be to go over what needs to be done and getting an estimate. Sometimes this goes hand in hand with choosing a contractor, as the estimate may actually be the deciding factor on who you choose to work with. Whichever way you choose, make sure you get a legit estimate for your project.
Breaking Ground– Once you get all of the necessary details taken care of in terms of who will be doing the project and how much it will cost, you can take a step back and watch the pros handle the work. This is a particularly exciting part of the project as this is when things start happening and you can watch the transformation.
Walk Through and Approval– The moment everyone has been waiting for is the final approval stage where you get to see the finished product. This is where business owners who envisioned their new space get to see their vision come to life. Of course, if anything isn't up to par, it will be fixed as soon as possible.
Are you ready to get that renovation started? We know we're eager to help you get there!
Contact us today!