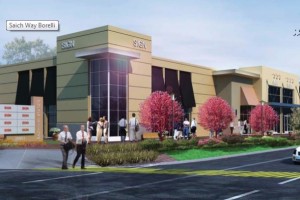 Borelli Investment Company anticipates starting construction this week on Saich Way Station, a roughly 15,000-square-foot, $10.4 million retail center at 2803 Stevens Creek Blvd. at Saich Way. The work follows the securing of a $6.4 million construction loan obtained through Heritage Bank, said Ralph Borelli, chairman of San Jose-based Borelli Investment Co.
The project has already landed three tenants — the Melt, a growing San Francisco-based gourmet grilled-cheese chain founded by the founder of Flip Video; Blast Pizza, part of the emerging "custom-pizza" trend; and Vitamin Shoppe, the nutritional supplement superstore. That represents more than half of the space available, said Randol Mackley of SRS Real Estate Partners, which is marketing the center. Five retail spaces are still available.
The Cupertino submarket has become sought-after for retailers, thanks to high household income in Apple Inc.'s home town. But there are few new projects that have gone up in recent years. The Sobrato Organization has repositioned Homestead Square, a Safeway-anchored center, and Sand Hill Property Co. is under construction on Main Street Cupertino, a mixed-use center near Vallco Shopping Mall.
"Cupertino has about a 2.6 percent retail vacancy rate," Mackley said. "This will be the newest with sticks in the air."
Saich Way Station replaces about 11,600 square feet of retail space between Cupertino's Target and Whole Foods, considered an extremely desirable location. In 2008, a fire caused some of the businesses in the center to close. The property owner decided to scrape the site and rebuild the whole center in a joint venture with Borelli. Working through city approvals took about three years.
"It's the No. 2 performing Whole Foods store in the entire chain, very desirable demographics and there's very little ground-up development," Borelli said.
One example of the strong environment for new retail in Cupertino was the financing interest from banks. Borelli said about half a dozen banks provided proposals to fund the construction.
"We had a lot of interest in it," Borelli said. SiliconX Construction, an affiliated company of Borelli Investment Co., is the general contractor. Construction is expected to take about six months.
Reprinted from the Business Journal – read it here.
For more information about Saich Way Station, visit: www.SaichWayStation.com