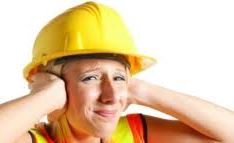 Some people love the noise of life rushing by, the constant alert from an email or a text message, or the honking of horns on their morning drive.
Some love peace and quiet, perhaps it's the tranquillity of living in the country, finding a comfy spot in the library or snuggling up in bed with the kids asleep in the next room.
What we all hate is noise when we want quiet. In fact, an interdepartmental group of UK government economists estimated the cost of urban road noise in England alone at $8-11 billion annually. That's a significant problem by any standards.
For example, it's 6pm and you're putting the baby to bed and all you can hear outside is banging, crashing and shouting from the construction site across the road. You have no idea who to talk to on site to tell them to keep it down, and all you know is that it will continue every day until the block of flats have been complete.
Working from home without noise
Similarly, you work from home and you have a very important presentation to prepare. It's 10am and you're trying to concentrate on your pitch but the drilling coming from the utility works outside your house is giving you a headache, which adds to the tiredness you're already feeling from the sleepless night you had due to worrying about your presentation.
Both of these situations could have been avoided if the contractor in question had thought ahead and had included some noise reduction solutions in their site plans.
The construction industry is growing, but so is the need to reduce noise.
Noisy construction sites, utilities maintenance, rail engineering and music events are all part of our day to day life and in theory, the more noise, the more our economy is growing. But that doesn't mean solutions can't and shouldn't be put in place to reduce the inconvenience on local people.
Noise reduction barriers, such as the Echo Barrier H2 are the ideal solution. They are cost effective, available to hire and purchase, are lightweight and easy to install and transport and weather proof. They are simple to put up and can be hung on traditional site fencing and hoarding, reducing the noise leaving the area by up to 30dB.
They allow companies to demonstrate an effort to reducing their impact on local people; if people see than something has been put in place to reduce the noise, then they are less likely to complain.
It will also improve the reputation of the contractor locally as well as with their own employees, improving their working environment and reducing the threat of potential noise related illnesses.
In summary, keeping the peace can have commercial as well as health benefits and should be a vital part of any site management planning.
For more information on noise reduction solutions contact us!