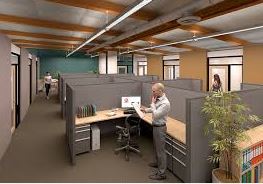 For small start-ups looking to renovate their spaces or mid or large companies looking to add a fresh look to their fading office space, there are many similar concerns before you can begin your renovation project. Here are some factors that you should keep in mind before you begin renovating:
Budget
Whether you are a small company or large organization, the first step to a new office look is deciding the budget. A large organization may have bigger budget to renovate, but you need to decide precisely what you are willing to spend. The amount should also include a buffer amount to accommodate any problems or delays.
The step of budgeting is also useful in deciding how extensive the renovation process can be or if you lack adequate funds and should put off the renovation process till later.
Scale
Renovating office space does not have to mean gutting the space and starting from scratch. There are many different ways and scales of renovation. A simple renovation can be done by adding a coat of paint to the walls and refurbishing the chairs. A more elaborate renovation could call for new windows and floors in addition to the paint and new furniture. The level or scale of renovation depends on the budget and the end look you are trying to achieve.
Work and employees
Shutting down the office to conduct the renovation is not possible unless you have temporary facility to move your employees or a remote work solution that allows employees to work from home. Companies can speak to their designers or construction companies to rent a temporary location until the renovation is completed. They could also try and schedule all renovation work around holidays.
Designers and construction companies
Designing your own office space in order to save cost is a tempting idea. Resist this idea. Trained professionals can help you maximize your office space. They can help you create a comfortable and efficient workspace that employees will appreciate. They can also help you add touches that will reflect your brand image and identity. These will help reinforce your brand to every client and customer that visits your office.
If you are sure you need to renovate, but are unsure how to go about the renovation process, a designer and a construction company can steer you in the right direction by informing you of the latest trends. Use these tips and ideas to renovate your fading office space into a modern stylish space.
Construction and Tenant Improvements in San Jose and the Silicon Valley
That's what we do.  Contact us today to discuss your project.