Highlights
Completed interior demolition and demising of a free-standing 84,728 sq. ft. retail building in Gilroy for developer, the Alamo Group
Handled all reconfiguration and remodeling for a new 30,000 sq. ft. Ashley Furniture HomeStore within the building — including everything from the polished concrete floors to new, energy-efficient LED lighting
Carried out a comprehensive exterior facelift of the entire 85,000 sq. ft. building, in addition to refurbishing the building's parking lot
Finished all work within six months — on time and on budget — to accommodate store openings by the critical Labor Day weekend
The southern Santa Clara Valley encompassing Morgan Hill and Gilroy has become a major population center in Santa Clara County. Retailers must compete aggressively for a share of the lucrative market. In 2016, successful Danville-based shopping center developer, the Alamo Group, contacted SiliconX Construction to handle the interior demolition and demising as well as an exterior facelift of a stand-alone 84,728 sq. ft. building at 8777 San Ysidro Avenue in the Alamo Plaza shopping center in Gilroy.
Challenge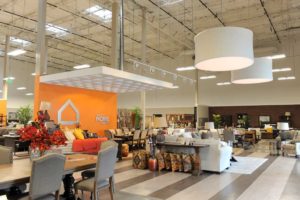 The large building sits in a prominent retail location, just down the street from Gilroy Premium Outlets and adjacent to busy Home Depot and Staples stores. It's also clearly visible from the heavily traveled South Valley freeway (Hwy 101). Alamo Group wanted to ensure that it projected an appealing image that would draw customers to the retail businesses located there.
The biggest challenge was that with the upgrade not beginning until March, it was imperative that all work be completed by Labor Day weekend, the official start of the lucrative fall and, ultimately, holiday shopping season.
Solution
SiliconX started by demolishing the interior space and constructing the demising walls for the various tenant spaces. Soon after the project got underway, SiliconX was also contacted by Ashley Furniture to handle the reconfiguration and remodeling of a new 30,000 sq. ft. HomeStore that was going into the building. For Ashley Furniture, SiliconX took care of everything from the polished concrete floors to installation of the latest LED lighting with timers and multiple dimmers. The LED lights fully comply with California's Title 24 building energy efficiency standards and create an inviting environment for shoppers.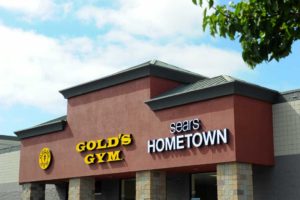 In addition to the interior work, SiliconX completed an exterior facelift of the entire 85,000 sq. ft. building that not only houses the new Ashley Furniture store, but also locations for Gold's Gym, Mancini's Sleepworld, Sears Hometown, and a new Rockin' Jump indoor trampoline park scheduled to open this winter.
To conveniently accommodate the increase in customers expected for the upgraded Alamo Plaza, SiliconX extensively refurbished the building's parking lot as well.
Results
Exceptional planning and tight management kept the project on track throughout and enabled SiliconX to meet the ambitious deadline on time and on budget, so the stores could welcome customers beginning on Labor Day weekend.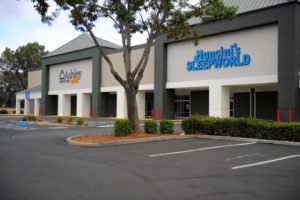 The number one furniture retailer in the U.S. and one of the world's top furniture stores, Ashley Furniture is using its 30,000 sq. ft. of space to showcase living room, dining room, bedroom, and home-office furniture — as well as mattresses and home accents at its new Gilroy store. The merchandise is all grouped within a variety of "lifestyles," ranging from traditional and contemporary to urban and vintage casual.
From start to finish, SiliconX Construction's innovative systems and processes plus strong project management provided the daily discipline to keep the work on schedule without costly overruns — ensuring that retailers could open their doors as planned.