Highlights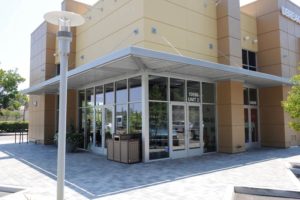 • Completed interior improvements for the upscale hair salon in its new space at Saich Way Station
• Worked closely with the property management team, architects and city planners to obtain all necessary approvals for the additional power and water required
• Finished all work within a tight eight-week timeframe — from lease signing to tenant move-in
In 2015, SiliconX Construction completed a 15,650 sq. ft., two-building retail center at 10095 Saich Way, across the street from Target on Stevens Creek Boulevard in Cupertino. The modern center with its sleek rooflines, stylish design and warm colors replaced an old strip mall that had been vacant for years following a major fire in one of the tenant spaces.
Saich Way Station was quickly leased to an impressive group of retailers including Vitamin Shoppe, T-Mobile USA, The Melt, Blast 825˚ Pizza, H&R Block, and TheCoderSchool.
Challenge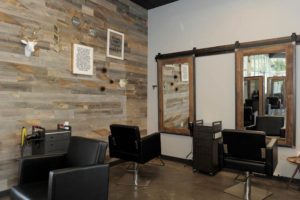 With only the end unit remaining, a business was identified to take half of that space, or approximately 800 sq. ft. The company was uBreakiFix, a specialized repair service for mobile phones, computers, tablets and game consoles.
This left the other half unit — 805 sq. ft. — as the sole remaining space at Saich Way Station. It also meant that SiliconX would have to work closely with the property management team at Borelli Investment Company, architect FCGA Architecture, and most importantly, Cupertino city planners to get approval for additional power and water needed by the final tenant: Parlour 17 hair salon.
Solution
Parlour 17 was moving to Saich Way Station from another location in Cupertino where its lease was ending. This created an additional challenge for SiliconX, which needed to complete the build-out of Parlour 17's suite within eight weeks — from the signing of the lease agreement to move-in.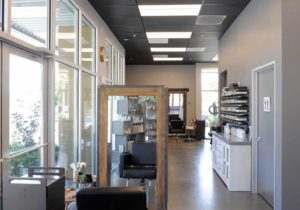 The work SiliconX completed on the extremely tight schedule included:
• Construction of a demising wall creating the space
• Installation of a new acoustical ceiling grid and light fixtures
• Installation of an HVAC system for the suite
• Stub out for the additional power and water in the concrete floor
• Concrete saw cutting for a new plumbing infrastructure
• Polishing of concrete floors and painting throughout the suite
The end result is a thing of beauty with added touches included rustic wood-covered walls and distinctive décor that presents a warm and inviting environment that's comfortable for Parlour 17's high-end clientele.
Results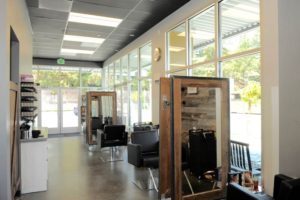 Both the center's new owner and the tenant were very pleased that SiliconX was able to complete its work on schedule and on budget. The seamless transition enabled Parlour 17 to avoid paying double rent for its old space and new space at Saich Way Station, while accommodating its clientele without missing an appointment. Meanwhile, the new owners of the center could begin collecting rent sooner and achieve 100% occupancy.
Overall, the owner has been very impressed from a fit and finish standpoint with the quality of SiliconX Construction's work. The general contractor continues to provide facilities maintenance services and tenant improvement work at the center under the direction of property manager, Borelli Investment Company.