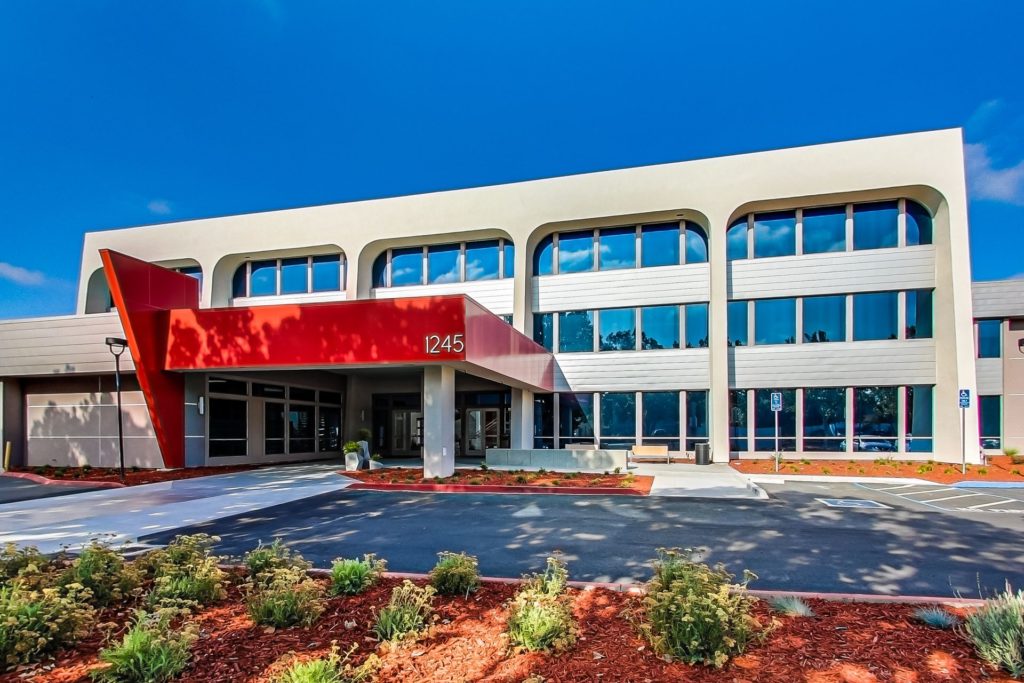 Highlights
• Completed a comprehensive interior renovation including lobbies, hallways, restrooms, conference room, mailroom, and more
• Oversaw a distinctive exterior facelift involving a smooth stucco finish with new trim, metal paneling, solar film windows, redesigned entry, monument signage, and drought-tolerant landscaping
• Incorporated green features throughout the project without starting from scratch, a major accomplishment in a building of this age
The world's a different place from the way it was in 1974, when the three-story Golden Pacific Office Center opened its doors to the public. Often referred to as the Comerica Bank Building, the structure at 1245 South Winchester Boulevard — together with a smaller companion building next door — had languished over the decades.
• Ensured that all work complements the City of San Jose's plans for development along the vital Winchester Boulevard corridor
Challenge
The new owners of the building wanted to create a modern, aesthetically pleasing, highly energy-efficient place to do business for companies of all sizes — with office suites of from 475 sq. ft. to 25,000 sq. ft. The nearly half-century old building posed a significant obstacle to the goal of achieving green building certification. In addition, the owners had purchased a variety of cost-effective materials from China for the renovation — including doors, frames and hardware. But many of these were not compatible with ADA codes and were slightly different sizes, so they didn't fit the rough openings to the offices in the building.
Solution
• Gracious lobbies with soaring ceilings, collaborative seating areas, secure electronic storefront entries, chandeliers, and new LED lighting
SiliconX Construction was asked to undertake a major 21st century transformation. Interior work included:
• Inviting hallways featuring LED lighting with motion sensors and dimming controls, new ceilings and carpeting — plus new doors, frames and hardware for each office
• Completely renovated and reconfigured restrooms with new wainscoting, partitions, LED lighting, hard-surface countertops, and tile floors
• A new conference room with serving cabinetry, as well as a new mailroom, tenant signage, elevator finishes, an LED-lighted lobby directory, and Wi-Fi in common areas
Exterior improvements included:
• A smooth stucco finish with new trim, paint, metal paneling, and solar film windows
• A rooftop solar system supplying approximately one-third of the building's energy needs, plus many other energy-conscious green features
• Covered seating areas at each entrance, new monument signage, a redesigned entry from Winchester Boulevard, EV plug-in stations, and drought-tolerant landscaping
Unique 27-foot-wide "solar trees" in front of the main building — with "branch" panels that generate additional energy for the tenants' usage — and EV plug-in stations will be installed once permitting is approved, to continue the solar theme of the project.
Results
SiliconX worked closely with San Jose-based Edwin Bruce Associates, architects AIA — as well as solar solutions provider and building tenant, SilRay, to handle the solar power installations. SiliconX also had to creatively adapt on the fly in the field, collaborating with its subcontractors to deal with issues created by the overseas doors, frames and hardware in addition to those related to shear walls that hadn't appeared on existing drawings. This enabled SiliconX to complete its construction in a timely manner and realize budget savings for the owners.
The result is a modern, Class B office complex of 71,800 sq. ft. located at the midpoint between tech-savvy Santana Row — with its many restaurants, entertainment options and retail services — and the quaint offerings of downtown Campbell. Solar Row at Winchester is a shining example of what can be accomplished with the right combination of hard work, experience and technical know-how.