NEWS RELEASE
Contact
Tom Purtell, Chief Operating Officer
SiliconX Construction
2051 Junction Avenue, Suite 100
San Jose, CA 95131
Ph: 408.418.0099
tom@siliconxconstruction.com
All Green Lights at Groundbreaking for Club Auto Sport Phase II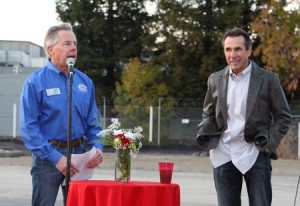 San Jose, Calif., December 27, 2011 — Club Auto Sport — the unique business and event center as well as a high-end club for automobile and motor sports enthusiasts — had a lot to celebrate Thursday night in North San Jose. While Club Auto Sport's growing roster of more than 40 businesses operating within the facility's vibrant, vital business community celebrated the season in the club, a group of executives from SiliconX Construction, Borelli Investment Company, Borelli Motor Sports, Goodies Speed Shop, TMFC, Silicon Valley Chamber of Commerce and of course, Club Auto Sport gathered to turn over the first shovel of dirt at the groundbreaking for Club Auto Sport Phase II.
Located behind the main building, the 33,000 sq. ft. Club Auto Sport Phase II building will bring the complex to a total of 120,000 sq. ft. of space and be anchored by Goodies Speed Shop — which has provided speed and performance parts and services to hobbyist-owners of American "muscle" cars and other high-performance vehicles, as well as hot rodders and drag racers, from its current location on Lincoln Avenue near West San Carlos in San Jose since 1962. Goodies has signed a lease to move into five business condo units in the new building totaling approximately 8,200 sq. ft.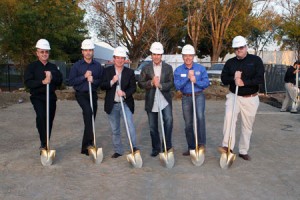 "The groundbreaking for phase II is a testament to the persistence and hard work of Club Auto Sports' managing partners and staff," said Tom Purtell, Chief Operating Officer of SiliconX Construction, which is the general contractor for the building. "While the national economy has been stuck in reverse for much of the past three and a half years since the club opened, Club Auto Sport has accelerated ahead and adapted to a changed market. It devised a winning strategy that has enabled the original building to reach approximately 90% occupancy. We're excited to be part of the next phase at Club Auto Sport."
The groundbreaking began with brief remarks from Ralph Borelli, a Co-Managing Partner at Club Auto Sport and President of Borelli Motor Sports; John Davis, a Co-Managing Partner at Club Auto Sport and President of TMFC; Richard French, President of Goodies Speed Shop; Purtell, and District 9 San Jose City Councilman, Donald Rocha — who's been a Club Auto Sport enthusiast since it opened in mid-2008 — spoke about how the club's success underscores that government's role should be accommodating and supportive — letting innovative private business leaders find workable solutions to market challenges.
After that, it was time to bring out the traditional golden shovel. Councilman Rocha; Purtell; Borelli; Buddy Parsons, President of Borelli Investment Company; Davis and French did the honors while several hundred guests looked on.
The group then moved indoors into Borelli Motor Sports' spacious facility to enjoy hors d'oeuvres and their favorite libations created by Coconuts Caribbean Restaurant & Bar in Palo Alto and planned by Kristina Epidendio of Simply Stunning Weddings & Events. The Christmas music played on steel drums lent an island holiday flavor to the gathering.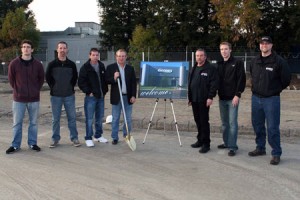 Unlike typical groundbreakings, this one didn't end after a half hour or so — but instead gained momentum as the guests joined with Club Auto Sport's holiday revelers and partied on into the night throughout the club's business community and car condos.
The concrete tilt-up Club Auto Sport Phase II building is scheduled for completion — weather permitting — by the end of March 2012. Tony Gonzalez, SiliconX Construction's Director of Construction Operations, will oversee the process.
SiliconX Construction, an affiliate of Borelli Investment Company, is a full-service general contractor that provides a wide array of value-focused construction services to clients throughout Northern California. Specialties include ground-up construction, major renovations, tenant improvements, and facilities maintenance. For more information, call Tom Purtell at (408) 418-0099, or e-mail tom@siliconxconstruction.com. For more information about SiliconX Construction, visit siliconxconstruction.com.
Borelli Motor Sports is a multi-faceted automotive business that provides trusted and expert maintenance and service, race rentals and premier-class storage. Racing enthusiasts can get everything from driving day prep services and trackside support for their cars to personalized coaching by racing professionals. And collectors of vintage, exotic or high-performance automobiles can arrange to store their vehicles in Borelli Motor Sports' pristine, high-security, climate-controlled indoor space. Contact Addison Lee at (408) 770-1220, or e-mail addison@borellimotorsports.com. The company's web site is www.borellimotorsports.com.
Club Auto Sport is the only facility in the nation to combine a dynamic business community that accelerates growth through a built-in marketplace; a stunning event center that attracts thousands of guests annually for business, charitable and social functions; and a chic club for auto enthusiasts, collectors and others tuned to the energy and imagination that drives Silicon Valley. For more information about the Club Auto Sport business community and leasing/purchasing opportunities, contact Anna Mcquillan Rose, Director of Sales and Leasing, at (408) 770-1205, or e-mail anna@clubautosport.net. For more about Club Auto Sport, visit clubautosport.net.
Goodies Speed Shop is currently located at 345 Lincoln Avenue, San Jose, CA 95126. The store is open Monday–Friday 9am – 6pm, and Saturday 10am – 3pm. For more information, call (408) 295-0930, or visit goodies-speedshop.com.
# # #