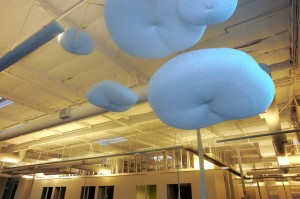 The lighting market is undergoing a period of rapid technological changes with new techniques like LED, OLED that are providing new possibilities for customers for lighting up their homes and commercial spaces. In both small and large offices all work depends on teamwork of perfect illumination, color reproduction and efficiency of energy. Today's offices are a mix of open and closed floor plans, wherein the managerial staffs have cabins and rest of the staff works in an open office with individual cubicles and workstations. Other closed areas of an office are conference areas and meeting rooms which have projectors, boards and other paraphernalia and are usually lighted up only on specific occasions.
Lighting system in an open plan office
Open plan office allows optimum dispersion of light and intelligent light system can be used to manage its requirements in an energy efficient manner. Light management using a mixture of recessed light fixtures, track lights and natural light can be used to complement the layout and structure of the office. Lighting installation in the open area can be a mix of track lights above workstations to provide pleasant work atmosphere and increase productivity. If the office is on a top floor then try to install skylights to allow natural light on bright days which are inexpensive and save energy.
The areas that are used less like corridors between open spaces to the managerial cabins can be energy saving halogen lights or fluorescent lamps.
Conference rooms are the power zones of every office, where customers are welcomed and presentations are made for teams, hence the layout should be kept as flexible as possible.
Recessed lighting on the far edges will ensure sufficient brightness with white light applications in the center section above the display area and conference table, which will create a holistic approach to lighting.
Lighting in a closed office
In a closed office with small cubicles, glass or fiber separators usually cut off natural light from windows, so ceiling lighting will be ideally suited to keep the place bright and cheerful throughout the day. Recessed lighting is possible only when the ceiling is low as light can be directed to workspace. At every office, the entrance and reception area create the first impression for prospective customers and these have to be warmly and brightly lit, without being too garish. Efficient LED with brightness controls are best suited for this area as it can be dimmed during daytime and increased during the late evening hours.
Contact SiliconX Construction today to inquire about our services.  We'll give a quick and free estimate on any size construction project.