CUPERTINO, Calif., Sept. 12, 2016 – Marcus & Millichap (NYSE: MMI), a leading commercial real estate investment services firm with offices throughout the United States and Canada, is pleased to announce the sale of Saich Way Station, a 15,525-square-foot multi-tenant retail center located less than one mile from Apple Inc.'s headquarters in Cupertino, California. The $16.5 million sales price equates to $1,063 per square foot.
Kirk Trammell, senior vice president investments in Marcus & Millichap's Palo Alto office, along with Vincent Schwab, senior vice president investments in the firm's San Francisco office, and David Cutler and Joshua Johnson, associates in Palo Alto, represented the seller, Borelli Investment Co. Tenny Tsai of Cushman & Wakefield in San Jose represented the buyer, a family exchanging out of a redevelopment site in San Francisco.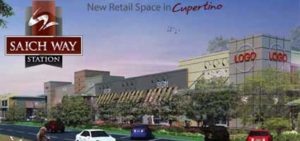 The sale marks the successful fulfillment of a joint venture between Borelli Investment Co. and a local property owner. The partnership transformed the property from a burned-out shell in 2008 into a multi-tenant retail center that is perfect fit for its upscale location.
"Saich Way Station's evolution is the result of an enormous effort by the Borelli Investment Co. and we are very pleased to have been able to maximize the value received," says Kirk Trammell, senior vice president investments in Marcus & Millichap's Palo Alto office. "The center's excellent construction quality, strong tenant line-up, and close proximity to the new Apple campus made it an ideal trade property. We created a competitive bidding environment that produced multiple offers, secured an all-cash buyer and closed in a little over a month."
Built by SiliconX Construction to exceed Cupertino's high standards for a pedestrian-oriented, environmentally conscious retail center, Saich Way Station features a low roofline, bold storefronts, stylish awnings, modern colors, and ample glass. The center's paved-stone walkways, benches, outdoor seating areas, bicycle racks, and ample parking welcome shoppers. One of the California Green features SiliconX incorporated into the center is a sophisticated drainage system that contains runoff on-site.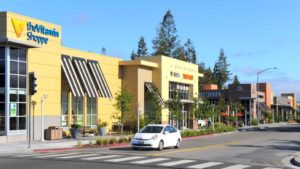 Saich Way Station's tenants are Vitamin Shoppe, T-Mobile, The Melt, H&R Block, Blast 825 Pizza, Site for Sore Eyes, uBreakiFix and The Coder School Cupertino.
The center is located between a Target and a Whole Foods Market at the northwest corner of Stevens Creek Boulevard and Saich Way at 20803 Stevens Creek Blvd.
About Marcus & Millichap (NYSE: MMI)
With over 1,600 investment sales and financing professionals located throughout the United States and Canada, Marcus & Millichap is a leading specialist in commercial real estate investment sales, financing, research and advisory services. Founded in 1971, the firm closed over 8,700 transactions in 2015 with a value of approximately $37.8 billion. The company has perfected a powerful system for marketing properties that combines investment specialization, local market expertise, the industry's most comprehensive research, state-of-the-art technology, and relationships with the largest pool of qualified investors. To learn more, please visit: www.MarcusMillichap.com
 About Borelli Investment Company
Now in its 61st year in business, Borelli Investment Company is one of the oldest commercial real estate firms serving the Santa Clara Valley, Central Valley and Sacramento areas. The company provides a full range of commercial real estate services — from development and asset management to land sales and property management services.  More information about Borelli Investment Company's services may be obtained by calling (408) 453-4700 or visiting www.borelli.com
  About SiliconX Construction
SiliconX Construction is a full-service general contractor that provides a wide array of value-focused construction services to clients throughout Northern California. Specialties include ground-up construction, major renovations, tenant improvements, and facilities maintenance. For more information, call (408) 418-0099 or visit www.siliconxconstruction.com