Palo Alto Stanford Heritage and the Palo Alto Historical Association have named SiliconX Construction the winner of their 2021 Commercial Preservation Award for work on the historically accurate renovation of the 526 Waverly Street building in downtown Palo Alto.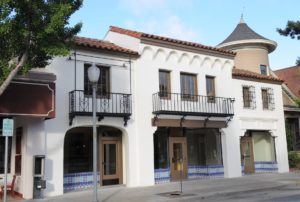 Commercial real estate firm, Thoits Bros., Inc., purchased the building from the original owners and worked closely with Randy Popp of Randolph Popp Architect to create the necessary blueprints. Popp carefully studied the original drawings and specified the elements required to restore what had been a significantly altered façade and entries back to its original 1927 design.
SiliconX and other team members then worked diligently to custom fabricate historically accurate windows, doors, tile and ironwork to complete the work and return the building to its distinctive Spanish Colonial Revival appearance. The restoration has become a valued addition to Palo Alto's historic downtown core.
Remarkable Heritage
Designed by prominent local architect, Birge Clark, and built by Wells Goodenough, the building originally served as the family home of Palo Alto resident H.J. Hoffacker, as well as commercial space for Hoffacker's business, the Palo Alto Sport Shop. But after almost a century of use, the building's luster had faded.
Creative Construction Approach
SiliconX worked to complete the upgrade with painstaking precision while ensuring that there was no disruption to commerce in the downtown area.
Some exterior architectural elements were fashioned with foam and integrated into the concrete exterior, then covered with stucco mixed to match the style of the original. Window trim was recreated from powder-coated aluminum, and handmade ceramic tile was sourced from Fireclay Tile of San Francisco for the decorative wainscoting below the windows.
SiliconX also identified a supplier for the historically accurate wrought iron balconies and other ironwork. In the end, it all came together in a breathtakingly accurate refresh and renovation — with 5,800 sq. ft. of functional retail space on the ground floor and an additional 3,150 sq. ft. of multi-purpose space on the mezzanine.
SiliconX is honored to be part of the award-winning team for such an important project situated in Palo Alto's historic downtown area.
For the video of the award program:  https://vimeo.com/644979669 (award presented at minute 42)
Winning Team Members
Owner/Project Manager: Thoits Bros., Inc.
Architect: Randolph Popp Architect
Contractor: SiliconX Construction, Inc.
Key Supplier: Fireclay Tile
City of Palo Alto: Amy French, Chief Planning Official